Holiday Drink Ideas To Keep The Season Merry And Bright

'Tis the season…to be tipsy. Presents, trees and family dinners are all well and good, but here at Shottys, we know the holiday celebrations are what you're actually excited about! Whether you're throwing small holiday party with a few close friends or big bash complete with an oversized blowup reindeer, look no further to become the Party Hero!

As party-experts, you may ask us, what's the best way to bring joy to the world when you can't bear having to listen to Jingle Bells one more time? With fun and festive holiday drinks of course! From decadent mulled wines to fun pre-made gelatin shots, the key to a perfect holiday party is having a wide variety of seasonal drinks. Here's what you need to guarantee that you have something to offer for everyone.
Hot Punches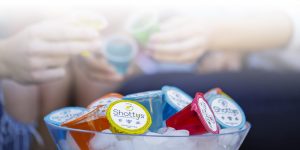 Is it really a party if there's no punch bowl? For a holiday celebration, take this classic party essential and make it warm and cozy. In the cold winter months, nothing is better than a boozy hot and sweet drink for keeping your guests warm when they aren't living it up on the dance floor. Better yet, hot punches are one of the easiest drinks to make ahead of time.
A spiked cider or mulled wine with orange slices, cranberries, and cinnamon won't just liven up the awkward office holiday party you tried to get out of all year. It'll also create a spicy aroma for a  perfect holiday atmosphere. Also, who says hot chocolate is just for kids? An adult hot chocolate with bourbon or rum is another great option, especially if accompanied by an enticing array of mini-marshmallows, candy canes, and whipped cream. Serve in a  novelty mug for an added element of quirky holiday cheer.
Signature Cocktails
No holiday party is complete without signature cocktails. Luckily, holiday flavors are versatile with great mass appeal…who doesn't like peppermint? When designing a signature cocktail for your holiday party,  let your creativity guide you! It's easy and fun to design a personalized seasonal cocktail that helps your guests have a holly jolly time!. Here are some tips to get you started:
For a Ruby Red, beautifully sophisticated and impeccably sippable signature use cranberries, grenadine, and your favorite spiced spirits for a holly jolly flavor. The holiday season is also a great time of year for rich, chocolatey, and smoky cocktails like White Russians and Irish Creams.
No matter what signature cocktail you choose for your party, make sure to serve with fun holiday garnishes like candy canes, sprigs of rosemary, or cinnamon sticks. You also can never go wrong with stealing some sprinkles in fun holiday shapes from your kid's cookie decorating extravaganza.
Party Shots
When you really need to get the holiday party started, nothing does the job quicker than holiday party shots. Rim shot glasses with festive colored sprinkles or garnish them with Mini-Christmas trees to create cheery party starters.
And what would the holiday season be without indulging in flavors sweeter than a visit from the sugar plum fairy? Gelatin shots are a great way to make your holiday party even more lit than the miles of Christmas lights you lined your house with. Pre-packaged gelatin  shots are an even easier way to add more boozy fun to any event you're planning this winter.
With tasty pre-packaged gelatin shots from Shottys on deck, whether your hosting the biggest holiday party on the block or just need another sweet treat in addition to the pack of holiday cookies you just ate (hey, we don't judge), you're sure to make every part of this holiday season merry and bright.