Your Survival Guide To Hosting A Holiday Party

It's the most wonderful time of the year again- the days are getting shorter, there's a nippy chill in the air, and all your friends are being crushed under the weight of holiday stress. During the holiday season, it's crucial to take a break from all those awkward family dinners and crowded shopping malls by letting loose a little (or a lot works too!). And what better way to unwind than with a holiday party, complete with party music, party memories, and party shots? If you're ready to rock around the Christmas tree, here are some key holiday party planning strategies you need to know.
Expect the Unexpected:  
It's time to face the truth: no holiday party goes as planned. You don't want to be caught off guard when your cousin's boyfriend shows up a half an hour early with five of his best buddies looking for the alcohol.  With the right strategies, you can stay one step ahead of even the most frustrating party mishaps and be the Party Hero.
Make sure that you have some pre-prepared drinks and simple snacks on deck ready for early arrivals. That way, they can mix and mingle amongst themselves while you quickly run into the other room to change out of your sweatpants. Having a fridge or cooler stocked with cold beer, canned wine, and premade gelatin shot packs can prevent awkwardness and ensure good tidings even when guests arrive early, when you have more guests than expected, or when a cocktail falls through. Cause we mean, what's a party without alcohol?
Focus on Festive Flare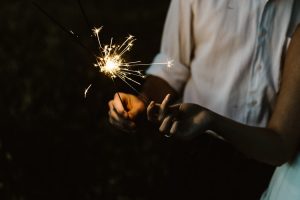 It's time to deck those halls! Here at Shottys, we love all parties (if you couldn't tell), but we especially love the festive atmosphere of a holiday party- the lights, the sweaters, the upbeat music. There's really something special about getting together with friends on a cold winter night to warm up on the dance floor with some alcohol. That's why getting the ambiance right is key to a holiday party.
There are a lot of creative ways to make or buy outstanding decorations, but you don't have to blow a whole paycheck or bust out the glue and pinecones to create a festive atmosphere. You'll get a lot of mileage out of some dollar store string lights, ribbons, and tinsel. Or our favorite, stacking homemade jello shots into a Christmas tree…functional and festive! Couple these simple decorative flourishes with a kickin' Xmas playlist, and you'll be doing the jingle bell rock in no time.
Make Time For You
We know you want to be the perfect party host, but Party Heroes know how to join in on the fun themselves! Your future self is going to thank your current self if you don't overdo it. Don't get too caught up in a DIY delirium that you forget that the whole idea of partying is that you actually have fun! You want people to be talking about your party for the next year because of how epic it was…not because of the cat fight you got in with your best friend!
 So, pick a couple of areas of your party that you want to go all out for and focus on those- like a signature cocktail or a show-stopping centerpiece. Then look for shortcuts to save you time and stress, like store-bought dips or pre-packaged gelatin shots from Shottys, that will create maximum fun with no headache. Let Shottys do the work for you so you can have the holiday party to end all parties without the mess. Come on. You deserve it.